Christmas is next week and so that can only mean one thing! It is time for some last minute gifts or a cute little accessories that you can adorn on top of all your pretty wrapped packages! This fun DIY is brought to you by Kayla Weber a great artist based out of the Kentucky area. She was kind enough to share her process with us of these adorable christmas ornaments that she sells in her adorable shop
found here
. I hope you all enjoy this and have a very Merry Christmas!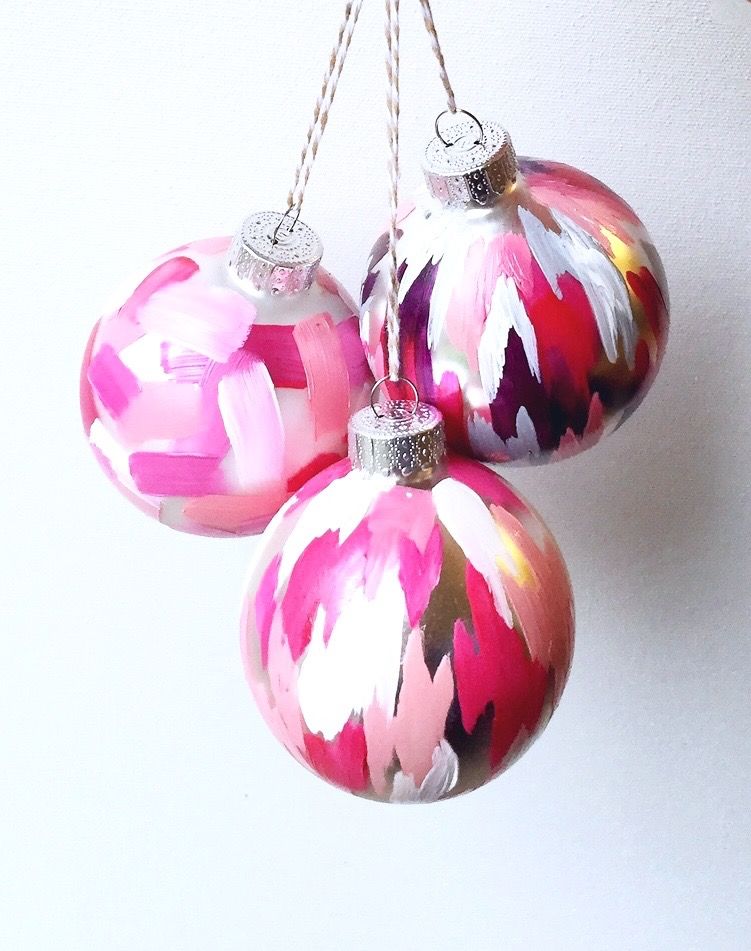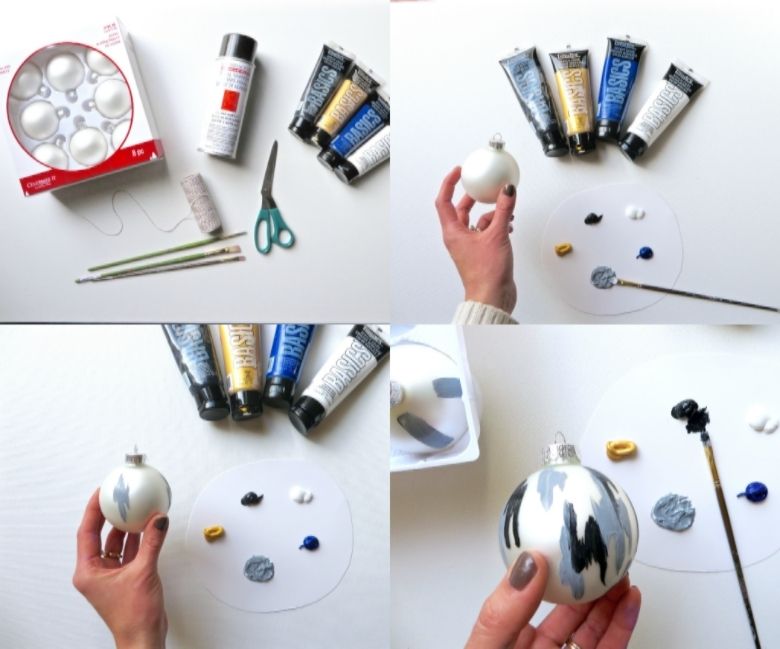 Step One:
These are all of the supplies you will need to create your very own DIY painted ornament. You can chose any colors and color combination you would like, I usually go with about 3 colors + white! Any kind of acrylic paint will work. Basics is a very medium priced and good quality paint, but any kind will do. You will also need an acrylic sealer/finisher (any brand will do). You will need a couple smaller brushes- whatever you are comfortable with. I like a flat square brush and a skinny pointy brush for both designs of ornaments. You will need scissors and string. All of these supplies can be found at Michaels!
Step two:
After you've decided on colors, you can make a palette of paint and begin painting. You will need to decide which type of design you want. There is a zig-zag brushstroke, or a swipe brushstroke.
Zig-Zag Ornament:
Begin by starting with one color and paint randomly around the ornament in a zig-zaggy brushstroke. It does not have to be perfect! Just make sure it gets skinnier and pointier towards the top and bottom of each stoke. I usually do a sort of "M" shape or upside down "V" shape. The zig-zaggy design will almost come together like a puzzle of brushstrokes, and it is fine to leave some of the pearl colored ornament showing through. I added black dots onto the gold brushstrokes to add almost a cheetah print. This can be done with the small pointy brush, once the gold has dried.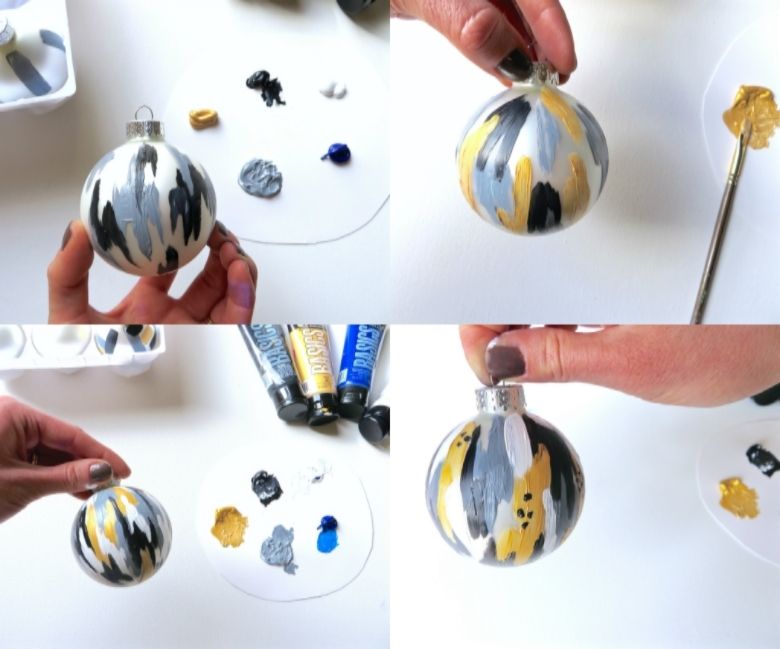 Swiped Ornament:
The swipe brushstroke is the easier of the two designs, and is done the same way. Start with one color and swipe side to side, up and down, all over the ornament. Some strokes can be short, some longer. Wait in-between colors, so that they dry and then you can overlap some strokes. Try to make your strokes go all different directions.
Step three
Continue with each color until you have filled the whole ornament. Tie on your string carefully and then let it dry by hanging it up, or by placing it back in the white container.
Step four
After about 20 minutes it should be dry enough to seal. Spray it with the sealer or finisher, then let dry again. Hang on your tree and enjoy!!
If you are more of a "non" DIY person and would just like to purchase these they are
available here
. You can also view Kaylas
Instagram here
. (@kaylawebernord #kaylaweberart) She posts a tons of cute photos of her art and her new cute puppy! Y'all know I'm always up for some cute animal photos!
xoxo
-L