I'm sure if you could ask anyone, what are some of your favorite must have things? They would instantly have a little list that pops into their head. I thought it would be fun today to share a few of mine. These are going to be items that are besides the obvious things in life that we truly couldn't live without like our dogs, family, friends, chocolate and you can't forget champagne of course. These are going to be little things that just truly make you smile or are simple everyday items I enjoy using! I'd love to hear some of yalls favorite things as well so feel free to list them in the comments bar below or lets chat on Instagram you can find me @thehappygoose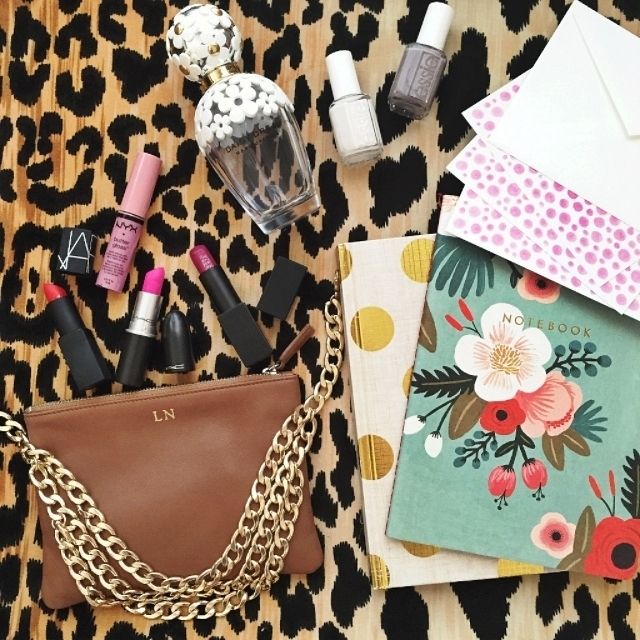 First up Lipstick's:
With fall just around the corner anything Pink, Cranberry or Red is a must! Some of my favorites are Nars: Fanny, Nars: Heat Wave and Mac's: Candy Yum Yum
Favorite all time Fragrance:
This for sure has to be
Marc Jacobs - Daisy Dream
, its so light and fresh with also a sweet hint! I love it. It seriously took me years to find a fragrance I liked as all of them would either make me have a headache or wouldn't stick throughout the day but this one is a winner! Plus I mean how adorable is that bottle.
Statement Necklaces:
This is always a big one for me once fall comes around. In the summertime it's so hot that I can't wear very chunky jewelry but once the cool weather rolls in I love a good statement necklace and arm stacks piled high. I linked a few of my favorites
here
,
here
and
here
.
Makeup bag's:
A small makeup bag for my purse is also a must, it has to be something not to big but not to small. I also love anything monogrammed so I had to include
this
adorable leather pouch
with my initials LN that are in gold. I also listed some of my other favorites
here
,
here
and
here.
Nail Polishes:
I love a good fresh mani! There is nothing that drives me crazier then when my nails are chipped and looking yucky. I try to do an at home mani at least once a week usually on Tuesday or Wednesday when I'm catching up on emails and my tv shows. Two on my go to polishes are Essie's - Marshmallow & Essies : Chinchilla... These are perfect for all year round and go with anything!
Notepad:
Ok so did anyone else get so excited to go school supply shopping when they were little, because I did and I still do! Like why is it so fun to get new notepads and pens? Someone please explain this to me and don't even get me started on the sharpie isle!! I love always having a small notepad on hand rather it be one I keep in my car or my purse its just great to always have one for writing down ideas, grocery lists, errands for the day.. ect.
Here
&
here
are some cute options I found online. I also think target always has really cute ones as well!
Stationary:
I love writing thank you notes, I just think this day and age with texts and emails it's so fun and heartfelt to receive a nice hand written letter. Rather it be a thank you note or just a random hope you're doing well, I always love having cute cards on hand! Here are some of my favorites.
The list could go on and on but these are some of my must haves! I hope y'all enjoyed it and let me know if there is any other blog posts y'all would like to see in the future!
Happy Wednesday Friends. Big hugs!