Ok so a lot of people have been asking for this recipe after I've posted pictures of it on Instagram two different times. Being someone who can't eat gluten and is also very conscious of there carb/sugar intake it makes it very tricky sometimes to find healthier dessert options or just baked goods in general. I came up with this little recipe a few months ago after trying a basic almond cake recipe which I have now created so many other recipes from. In saying all of that I would like to just tell you that this is not a traditional cinnamon roll recipe, but rather it is meant for us gluten free people or someone who maybe doesn't have to worry about gluten but doesn't want to feel so guilty after eating a whole plate of these bad boys. I think they are a wonderful option and even my mother who is a total dessert snob and isn't gluten free scarfed one down in a matter of seconds. She thought they were fabulous and especially when I told her how much healthier they were when compared to a traditional cinnamon roll she was really loving them! So after much anticipation... Drum roll please... The gluten free cinnamon roll recipe is finally here and is posted below along with some photos to hopefully help show you how I created these little lovelies.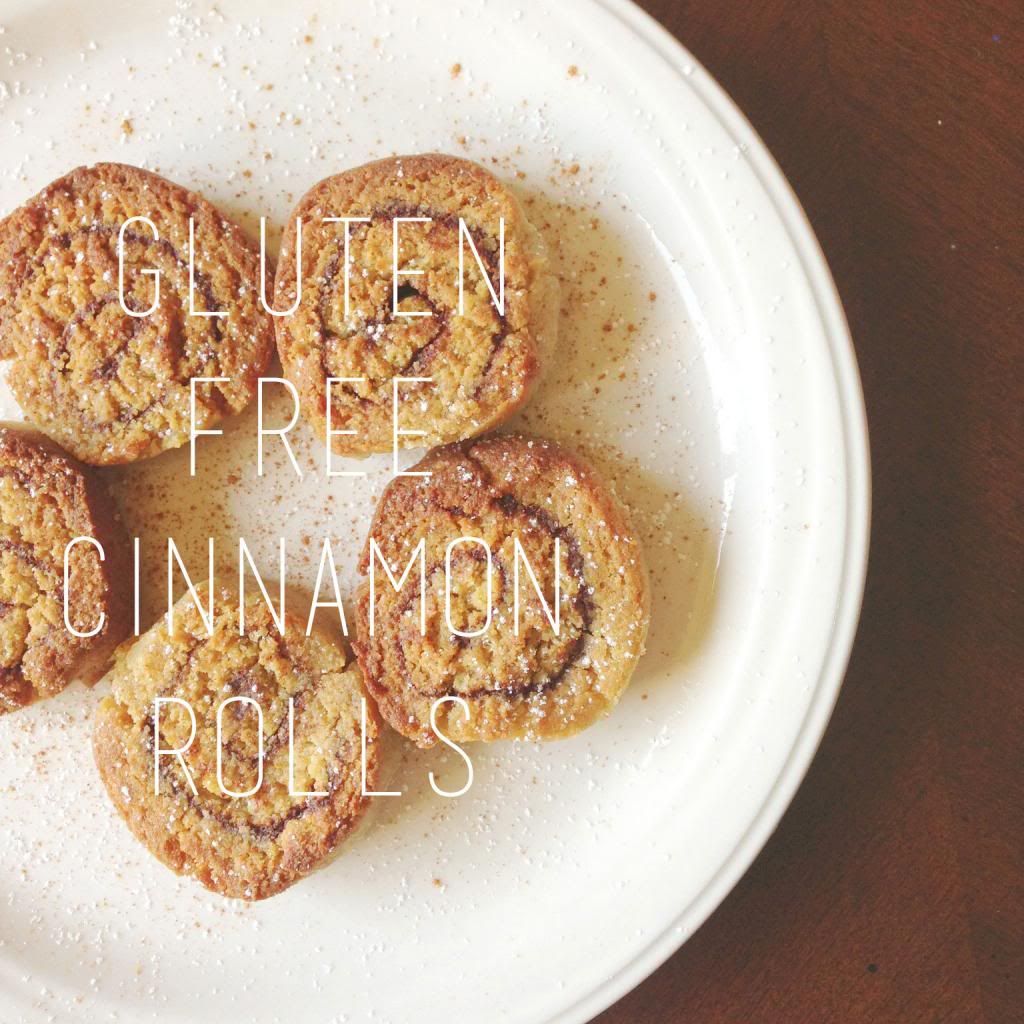 *dry ingredients*
3 cups Almond Flour
1/4 cup Baking Powder
1 tsp. Baking Soda
*wet ingredients*
2 Eggs
1/4 cup Melted Butter
(you can swap with coconut oil for paleo eaters as well as non dairy eaters)
3 tbsp. Honey
4 tsp. Stevia
1/2 tsp. Salt
*Combine your dry ingredients in a bowl and your wet ingredients in a separate bowl. Once each mixture is well combined add together in one bowl to form your dough.*
4 tbsp. Melted Butter
2 tbsp Cinnamon
2 tsp. Stevia
2 tsp. Brown Sugar
1/4 tsp Salt
*Combine all your ingredients in a small bowl and set aside.*
*low sugar icing option*
*This icing is more of a low sugar option so if you are looking for a more traditional icing recipe I posted one of those below, But since I'm trying to make these a little more healthy and not so loaded with sugar this is what I came up with. Also please note that its more of a glaze type consistency or in my case a dunk while you eat them type of thing!!!*
1 tbsp Butter
1/4 tsp Vanilla
1/2 tsp Stevia
A dash of Cinnamon
1 tbsp Almond Milk
*Combine all your ingredients in a small bowl and set aside for when the rolls are done.
(this icing recipe is meant for one serving only so double triple or quadruple depending on how many people you are planning to serve at the time! This can also be made ahead of time and then place in the fridge for when it is needed.*
*traditional cream cheese icing*
4 ounces Cream Cheese, softened
1/4 cup Butter, softened
1 1/2 cups Powdered Sugar
1 1/2 tsp. Milk
1/2 tsp. Vanilla
1. First lay down a long strip of plastic wrap and then place your ball of dough on top of it. Slightly spread it out with your fingers to form a somewhat flattened rectangular shape (as seen in photo 1). Next place another piece of plastic wrap across the top of your spread out dough. Take your rolling pin and roll out your dough till it is a little less than a half an inch in thickness. Once its flattened and has still kept its rectangular shape remove your plastic wrap that is on the top and proceed to the next step.
2. Now that your dough is flattened take your cinnamon sugar filling mixture and spread it all across the dough with the back of a spoon. It should look something like the second picture.

3. Lift up one of the sides of your plastic wrap (one of the longer in length sides).
4. Use the plastic wrap as a guide and slowly start rolling up your flattened creation.
5. Keep rolling until your cinnamon roll log is completely rolled.
6. Make sure the edge is sealed.
7. Now wrap your cinnamon roll long up tightly in the plastic wrap and place it in the fridge
for 30-60 minutes.
8. Once your little log is cool and a little more firm, unwrap it and slice it into 1" inch thick mini cinnamon rolls.
9. Place your rolls cinnamon swirl up onto a baking pan of your choice. A pie pan works really wonderfully for this. It's also your choice of how many you would like to make at the time. I usually just eat two and wrap the rest up and stick it in the freezer but if your feeding your whole family go ahead and cook them all. Just know you can wrap the log back up and slice them as you need them. Bake at 375* for 15-20 minutes depending on your oven and how many you cook. Check them at 15 minutes and if they are golden brown on top they should be good to go. Don't get me wrong the texture of these are not like your typical stretchy chewy cinnamon rolls.They are made from almond flour so they are going to be a little more soft and have some what the same texture to corn bread or an oatmeal raisin cookie, but for us gluten free eaters as well as low carb lovers these are a great little treat to add to your recipe book! I hope you enjoy them as much as I do and you will have to let me know what you think in the comments below.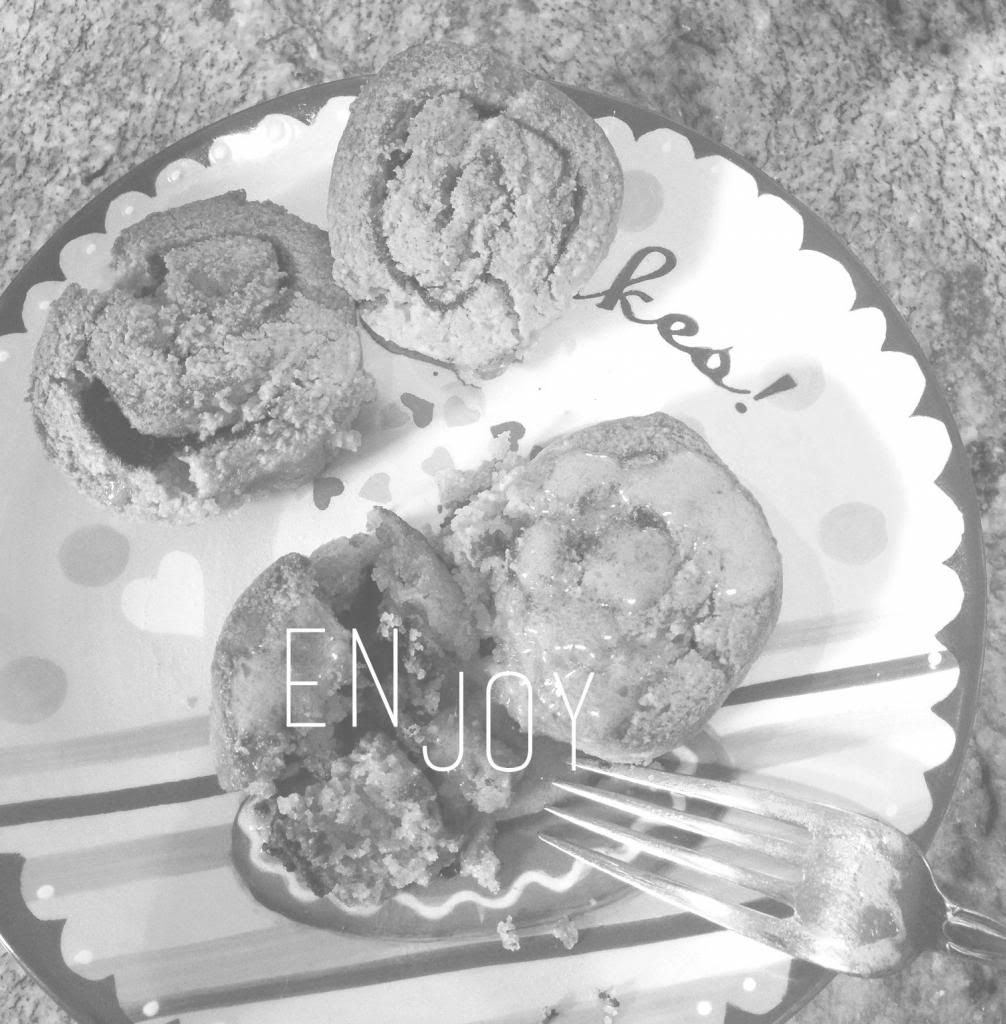 xoxo
Lindsay