Ok so before we start, I totally did not create this recipe (you can view the original recipe
here
). I actually got it from watching the show "The Chew" one morning and have been dying to try it out! With that said, I just want yall to know I am totally not taking claim of creating this recipe but yet I am so excited about it and I could not wait to share it with you all! I had never before today tried a macaron but have been dying too because of all the recent rave about them as well as numerous friends telling me how yummy they are. This recipe seemed easy enough but I totally went in thinking it was going to be a total fail as I had heard they are pretty tricky to make. I followed along the recipe and believe it or not they turned out really great! They are beyond adorable and are so super yummy! They kind of remind me of a gooey brownie. I hope you all will give it a try and let me know whatcha think!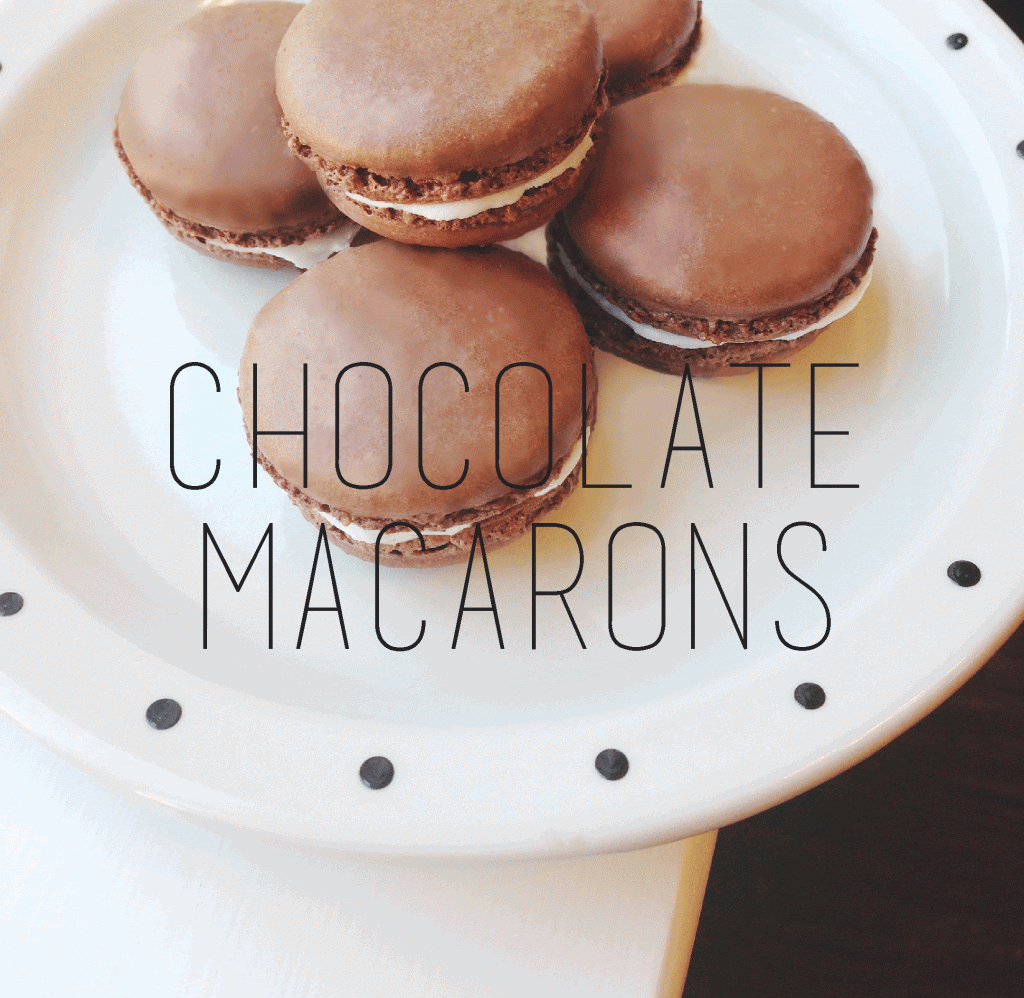 3/4 cup Almond Flour
2 cups Powdered Sugar
1/4 cup unsweetened Cocoa Powder
pinch of Salt
3 Egg Whites
1/4 cup Granulated Sugar
Icing Piping Bag
Medium / Large straight Tip (for piping bag)
(if you do not have these two things its ok you can use a spoon
or cut a hole in the bottom corner of a ziplock baggy)
Parchment Paper
Baking Pan
Mixer with Whisk attachment
Spatula
Bowl
1. First you want to make sure your Almond Flour is very finely milled, if it seems to still be a little chunky you are going to want to throw it into the food processor and pulse it a few times till you get a good fine flour. Do not leave it on for to long though or you could get almond butter!
2. Next in a separate bowl, combine your Almond Flour, Powdered Sugar, Cocoa and Salt. Mix them all together and set aside!
3. Now get your egg whites and your sugar and place them in your mixing bowl and whisk them on high until they form smooth stiff peaks. Be careful though to not over mix them. They should be glossy and look like yummy melted marshmallows.
4. Now slowly fold your dry ingredients in with your wet (the wet ingredients being your whipped egg whites or otherwise known as meringue).
5. Once everything is completely combined it should form a sticky rich chocolatey batter.
6. Next get your baking pan ready by placing a sheet of parchment paper on top.
6. Now its time to place your batter into your piping bag or if you do not have a piping bag you can cut the corner off of a ziplock baggy. You want the hole to be about a half an inch in diameter.
7. Squeeze your thick batter onto the parchment paper spacing them about 1 1/2" apart and about
1 1/2" inches in diameter. Once you're done squeezing the batter onto the baking pan you now want to let them sit there for about 30 - 40 min.
8. Once they have sat there and have formed a thick non wet coating on top place them in the oven for 12 min. at 350*
9. When they come out you will be so excited to see them in all their tiny cuteness along with their raised crackly edges. Pull the parchment off of the hot baking pan and set them aside for 15-20 minutes or until they are completely cooled.
10. Once they are cooled completely, you can scrape them off of the parchment paper with a spatula and slap some yummy icing in the middle and serve.
We tried all sorts of fillings, some of which included homemade buttercream, peanut butter, roasted marshmallows and my favorite of course the chocolate ganache!
* To make the Chocolate Ganache filling just combine chocolate chips and heavy cream in a microwave bowl and slowly heat them together until they are melted and create a think chocolatey sauce. *