Ok so for some time now I've had this idea to dedicate a day each week to post about new things I'm really loving at the moment rather that be people, products, art supplies, food, shopping ect. I mostly love the idea of sharing other peoples talents and creating a great supportive community. Thats what all of this is about right?! To create, share, inspire and support others! So I am going to make the plunge to commit to a new series every Monday. It will be called Share the love Monday and it is starting today. Woo Hoo!! I'm excited and feel free to share in the comments your recent favorites or if you want to share the love as well don't forget to link up in the comments below.
I hope you guys like and I hope you had a good Monday.
Love you sweet friends.
xoxo
Instagram:
#cassmiller
She is just so stinkin' adorable and her blog is great as well!
#textilenatalie
She is a beautiful mixed media artist, I love her use of bright color and her fun art journals.
#hollylauren
Super cute jewelry and style inspiration.
She is such an absolute sweetheart I love her! She has the best mixed media art videos.
She does beautiful whimsical Mixed Media art.
She is a Beauty blogger.. she is crazy, hilarious and I love her!
Etsy:
Dazzling Lana
I love there colorful boho hippie style.
Happy Days
Super cute simple jewelry pieces handmade by a super sweet lady.
Blogs:
Take Heart
I have been following Danielle for sometime now she has such a sweet heart and a great sense of humor. This girl cracks me up!!! I just love her and her little muchkins are absolutely adorable.
Delighted Momma
I loveee all her recipes they are usually gluten free and paleo friendly. Love. Love.
DKW Styling
I actually found her on youtube and I love her hairstyling videos but her blog is great as well for style inspiration.
If you know me... you know I love my popcorn and
this
is super yummy and a more healthy alternative to the bagged butter popcorn because it is dairy free and it is naturally popped with sunflower oil!
Oh my gosh I cannot get enough of
these
. Ever since last summer when I found out my body didn't like gluten :( I have been on the hunt for new good snacks. These chips are wonderful even if your fine with eating gluten you must try them, they are full of flavor and super yummy. I am also super excited about the fact that I can now actually be included in on nacho nights!
3.
This
is just a wonderful super cheap liquid concealer by NYX and I love it!! They also have a yellow shaded one for under eye darkness. These are great.
4.
If you follow me on instagram you probably saw the picture I posted of me in
this
dress. Online its still like $30 something dollars but I found it in the store on the clearance rack marked down even more. I ended up buying it for $11. It's super comfy... I wore it this weekend with a large oversized sweater and some little sandals.
5.
NYX wonder pencil
! This thing truly is a wonder and its super handy to keep in your purse. It's great for any random blemish spots outlining your lips when wearing a bright colored lipstick and so much more. Highly recommend trying this little guy!
6.
Yes I knowwww I'm way behind all the dry shampoo rave, but this girl likes her showers. If I am having to wake up early... I seriously cannot wake up without a shower so I haven't ever really needed dry shampoo because my hair is usually clean butttt I wanted to try it because I heard it was great for adding volume!! It smells super good its like $5 and I have totally been loving
this
stuff!!
7.
Real Techniques brushes
by Samantha Chapman. I first heard about these brushes on the youtube channel MMandLshow and I don't know what else I can say other than the fact that I am officially obsessed!!! They are awesome, the price range for brushes is awesome especially if you buy the kits that come with 4. I love these if you are looking for great makeup brushes these are great and they are super soft!!
8.
I saw
this
the other day randomly at target and thought what the heck its $3 it looked pretty when I swatched it on my hand so I grabbed it. I have worn it three times now and I love it.. its not glittery...
its a very light natural looking highlighter and is great for summer coming up.
9.
Oh my goodness!!
These
long loose fitted tank tops are amazing I have seriously been looking for these foreverrrr. I bought them in all the neutral colors, they are long enough to wear with leggings and are super cute layered with sweaters or scarfs so they are great for all year round.
And Lastly. . .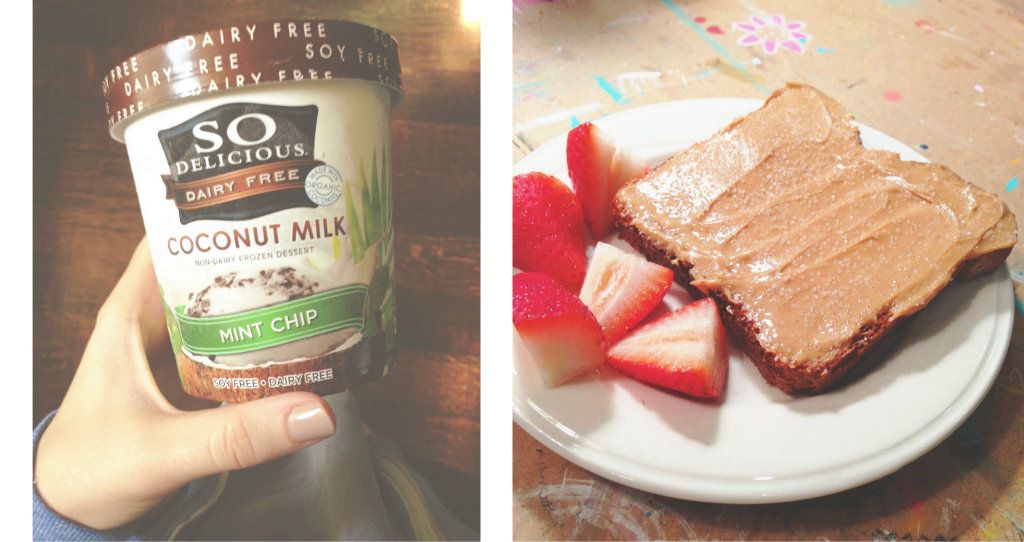 Left: So Delicious Mint Chip
Right: Toast with Peanut Butter sprinkled with sugar
(or stevia I use trivia) and salt. This is salty sweet heaven.