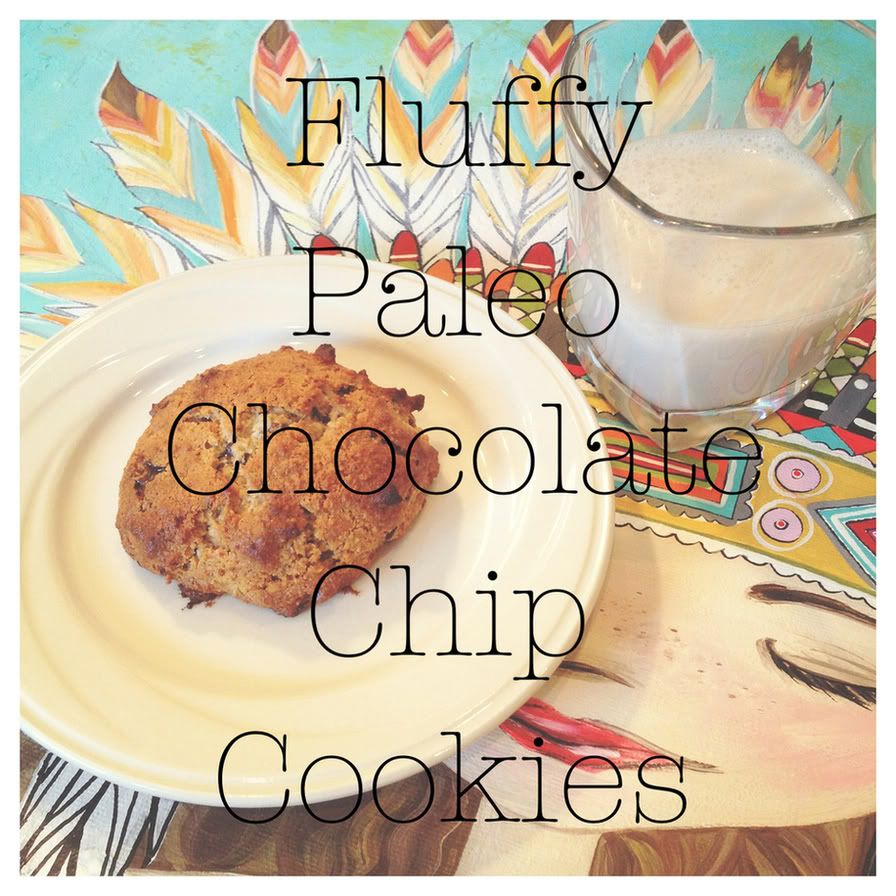 These things are like my new favorite go to treat! I think I have had at least a cookie a day since my friend shared this recipe with me. I started the Paleo diet last summer because of some on going digestive issues and always feeling so sick... I didn't know what the problem was and have since then discovered it was my gluten and sugar intake that was causing all the problems. Since going on this diet I feel so much better, I have more energy, I lost about 20 pounds and I haven't had a single kidney stone ( a major plus! ) So needless to say I am a big Paleo healthy living supporter and I have forever been changed by it! But I will say that in the beginning It's very hard and I was always craving a dessert or baked good of some sort. I tried about every recipe that there is out there and I will tell you these are fabulous! Most Paleo recipes I found especially for cookies fell completely apart, tasted weird, or were loaded with sugar but these cookies... Paleo eater or not they are awesomeee!! They almost have the consistence of a fluffy muffin but they still have that soft gooey middle that we all love so much! Another great perk is that these cookies nutrition wise are super healthy! They have a teaspoon (4g) of sugar per cookie (which comes from organic honey) and they have about 11 Carbs per cookie which all come from the nuts, so they are super good carbs! But enough about how amazing they are lets get to baking!!
-------------------------------------------------------------------------------------------------------
- 3 Cups Almond Flour
- 1/2 Cup Virgin Coconut Oil, Melted
- 1/4 Cup Organic Honey (regular honey is fine too)
- 2 Eggs
- 1 tsp. Baking Soda
- 1 tsp. Vanilla Extract
- Parchment Paper
- 4 tsp. of Truvia (stevia)
- 1 tsp. Salt
- 1 3 oz. Chocolate Bar (88% Cocoa) (equals about 1 Large handful)
(you could use regular chocolate chips but be aware that will add a higher sugar and carb content)
- A Large handful of Roughly Chopped Pecans (I like pretty big chunks in mine)
---------------------------------------------------------------------------------------------------------
1. Pre-heat oven to 375*
2.Place all your Ingredients into a large mixing bowl
except for the Chocolate Chips and the Pecans.
3. Once everything is well combined Chop or hand crack your Pecans
and add them into the Cookie Dough Mixture.
4. Once the Pecans are well incorporated Chop up your Chocolate Bar into large chunks
and then add it into the Cookie Dough.
5. Once every things all combined get a 1 1/2' scooper and scoop out your dough
onto a Parchment lined baking sheet.
6. Bake for 12-15 minutes or until they are very golden brown on top and
serve them up with a big glass of Almond Milk!! Yummo!
* This recipe is a large batch and makes about 17 cookies if you use a 1 1/2" scooper *
If you are serving a smaller family like me I usually just half the recipe or make the full batch and then roll into a log shape and wrap it in saran wrap and store it in the freezer! Storing it in the freezers also great for when you get one of those late night cravings. All you have to do is just slice off a piece and bake!
Oh and P. S.
These are the Chocolate Bars I use they are Gluten Free, All Natural, and Fair Trade!!
I can usually find them in the organic section of my Local Grocery Store (Kroger)
but you can also surprisingly find them at select Hobby Lobby's as well!